With real estate prices soaring, it is no surprise that many homeowners are now opting to rent or buy small apartment complexes or houses. While some homeowners are buying small houses due to financial limitations, nuclear families are opting for smaller houses due to less number of family members. While a smaller space usually translates to less storage space it doesn't necessarily have to mean that you live in a cluttered dingy house that doesn't appeal to you aesthetically or fulfill the functionality of the space. In fact, smaller housing space can often  be a blessing in disguise, forcing you to clear all the clutter, throw away the years of stuff you were hoarding (yes we all do it, there's no point denying it!) and come up with creative use and design of the space.
Whatever your current living situation might be, there are nifty ways to make your small home seem spacious and stunning! Thus, if space is at a premium, here are some of the best interior design solutions you can utilize to jazz up your small home.
Opt for a light or neutral toned color scheme 
The first trick to use to create the illusion that your space is bigger than it seems is to just paint your walls white. When choosing the curtains, stick to plain white lightweight material that is transparent, airy and allows natural light and air to filter through. This will create a sense of freshness inside your small home and create the illusion of space. The trick is simple, effective and arguably the easiest method of making a space appear bigger. The color white reflects all colors and thus has the innate ability to visually expand a space and easily trick our eyes. On the other hand, dark colors constricts a space and makes it look smaller. Thus, if you are picking a color scheme for your small home make sure to use a lot of white and pastel shades for your floorings, wall colors, furnishings and furniture.
Try working with a very basic white and lighter shades of black and grey and add a splash of color in small decor objects. You can also try adding some basic texture or pattern by using suitable wall hangings or decor items but remember to keep it simple and not stray away from your basic color palette of white, pastel and neutral tones. This will make your rooms appear larger than they are and inevitably give the illusion that you have a grand house!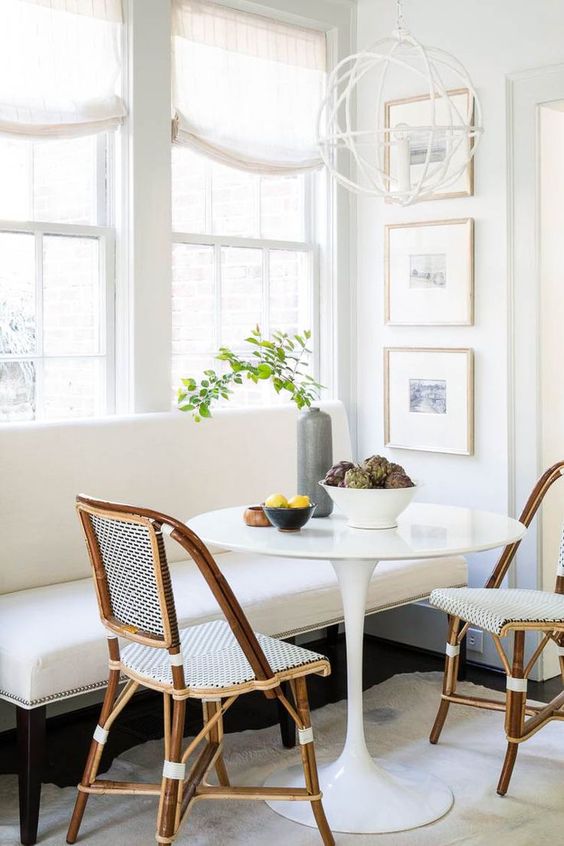 Try out minimalism 
Minimalist interior design is all the rage right now and for good reason! Minimalistic Framing are contemporary, chic and work exceptionally well for decorating small spaces. "Less is more" is the mentality you need while working with this design theme. This is a smart idea considering that you have less space to begin with. So, yes, get rid of the excess furniture and decor objects and just keep the bare essentials.
This design theme not only opens up your space but helps you eliminate clutter and extraneous items, eventually making your space seem more spacious than it is in reality. In keeping with this design theme, remember to buy furniture and furnishings with clear crisp designs or opt for solid colors in a light or pastel color palette. By keeping your design minimalistic, you will create a sense of balance, harmony and serenity in your small area and exponentially increase its aesthetic appeal.
Choose expendable furniture 
If you are not too excited about trying the minimalistic design theme for your small house, then you can instead opt to furnish your house with furniture that have dual functionality, are convertible and/or foldable to avoid a cramped look. A great piece of furniture is an ottoman, which can be used in narrow living rooms when there is no space for two sets of sofas. Ottomans easily supplement a living space, are easy to move around and can also double as accent pieces for the living room. If you frequently have guests over but fear that your small house might not have enough room then you might also consider investing in a sofa-cum-bed. They occupy as much space as three-seater couch but can be rolled out to seat more people on a need basis.
Chairs and big throw pillows that are stackable are a great idea for times when you have unexpected guests. Your dining table can also be designed to fold up against the wall or designed in such a way that it can function as both your dining table and your work station. Furniture that can be folded and stowed away easily is essential for a small living space so choose your furniture very wisely!
Use mirrors, lots of mirrors!
Mirrors are the simplest and one of the sneakiest ways to create the illusion of space, so use mirrors optimally to add visual depth in your small home. Large wall-to-wall mirrors can make a tiny bathroom look much larger. Placing a mirror directly opposite a window or in the foyer or living space will make the area appear spacious, and of course also make your home appear chic and aesthetic. Using a mirror is the oldest trick in the book to make any space look airier, lighter and larger.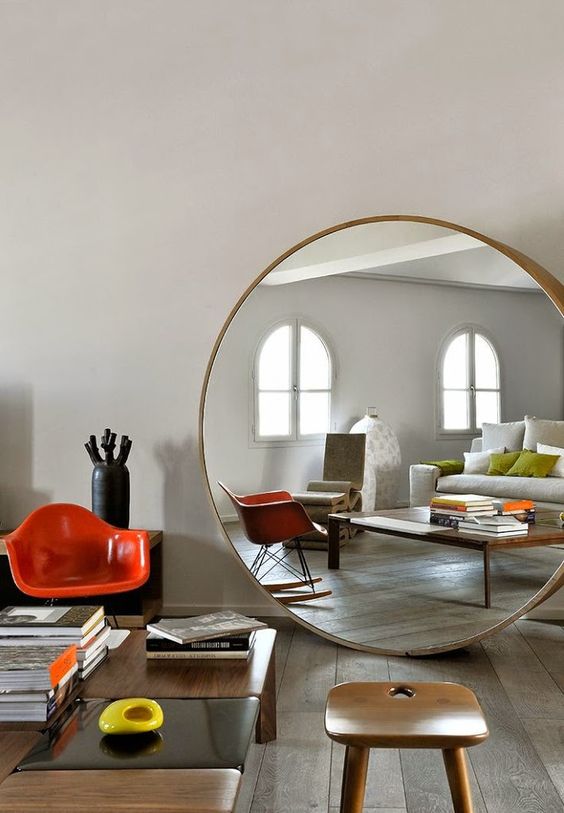 Optimize your storage space 
The biggest challenge you will face with a compact house is the storage space, or lack of it more specifically. Despite several rounds of decluttering, you might not have enough storage space that you need to house your belongings. The key is to use every inch of available space to your advantage and create storage wherever possible without restricting your space too much. One simple way to increase shelf space is to just buy a multi-layered open shelves. Alternately, you can also use the space underneath your bed as a storage space and use it to store away bulky items like extra mattresses or pillows. Customize your furniture to include built-in storage spaces to utilize every available sliver of space.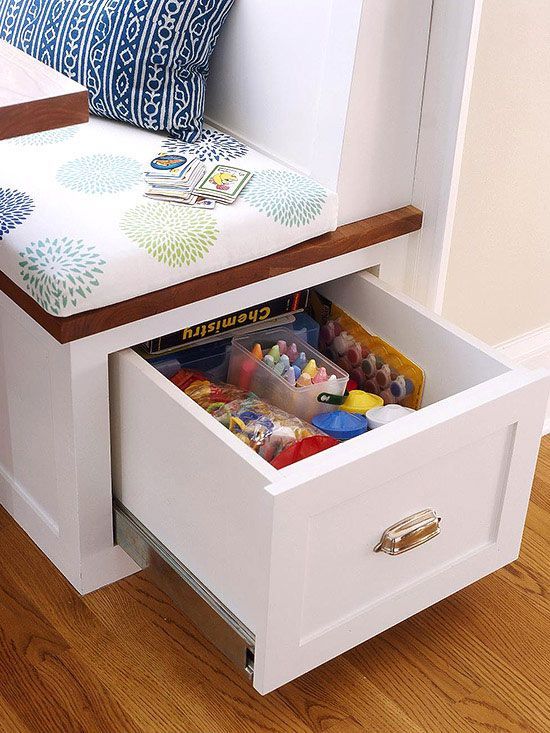 A poorly designed house may be reasonably large but it may not provide the occupants with the space that is required for them to live in harmony. On the contrary, a small house can be easily transformed into a spacious home just by choosing the right color scheme for the decor and making creative use of the storage space. Use the above tricks to design your small house/apartment, and remember, the trick really is just to make our brains think the space is huge! 
To design your sweet abode in the most functional way possible, get professional help from Niyate – for we provide beautiful framing for all spaces.