Have you ever thought of revamping the interior design of your home? In a way where you could express your individuality through it? If you've answered yes to the question then Bohemian style interior design might just be your style! Just like the famous song 'Bohemian Rhapsody' – your apartment will reflect an 'out-of-the-box' style with no limits to how the art can be interpreted. Bohemian style will make designing or renovating your interiors a super fun and colorful experience!
This style will enable you to play with your free-spirited individuality, refusing to be shackled to rules while designing your home. Without further ado, let's look at how you can establish the Bohemian or 'boho-chic' aesthetic.
Mix the old with the new
Slightly worn out objects can be combined with modern objects such as a lacquered swivel chair. The antiques could also have personal meaning to you, as Boho is all about expressing your identity. Even pieces that have history attached to them, which you may find at local indie stores, can be used as decoratives. Perhaps an old antique gramophone as a decoration may serve perfectly for this purpose.
The choices you make may be diverse, ranging from different colors to objects. You can fill your wall with antique photos with bright tones in the background to showcase your boho vision. While thinking outside the box, try to adorn every nook and cranny with objects you love. Remember, there are no rules!
Historically, Bohemians rejected focusing on materialism and instead focused on chasing abstract concepts. While it may not be possible to fully reflect this philosophy in your room décor, you can highlight your experiences and relationships by using souvenirs from different trips and hanging pictures of loved ones. Even a picture of a special place that speaks to you and invokes a certain memory can be used. Exotic pillows and rugs may capture the 'worldly feel' in your home. But do keep in mind that the exotic pieces of furniture are comfortable to use. A Moroccan style daybed may be a lovely addition but it's no good if you aren't comfortable in it. There are no limitations to how you may showcase your experiences or memories, let your mind run free. The best way to achieve the Boho aesthetic is to not confine yourself to conventions!
Bold patterns and colors
Just like the unconventional lives the gypsies led, the Boho aesthetic dares you to mix patterns and textures that may not necessarily be deemed coherent. Bohemians typically do not follow the norm. Bohemian style demands you to use a plethora of lively colors. Saturated colors such as purple, orange, and blue can be balanced with simple base colors such as warm grays or even white. This creates a solid foundation. Without a warm tone for the base, the layering of deeper colors and expressive patterns may appear unpleasantly overbearing. Don't be afraid to bring botanicals in the mix. They help to create an 'earthly' environment. Not to mention, they will clean the air and is a minimalist addition to the rest of the bold decorations.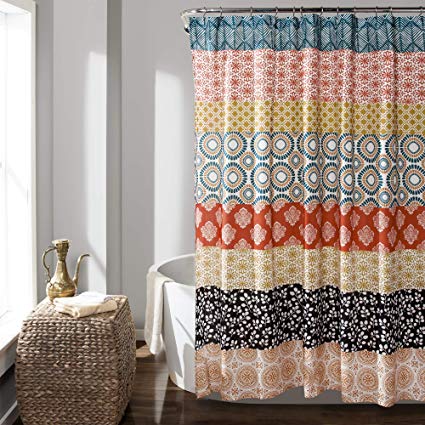 Botanicals
Speaking of botanicals, it may be a good idea to keep a plant or two in every room, if you're not on board with the idea of dedicating one room just for plants. You can keep houseplants in woven baskets and clay pots. If you're too busy to maintain plants, you may consider getting dried flowers bouquets as decoratives.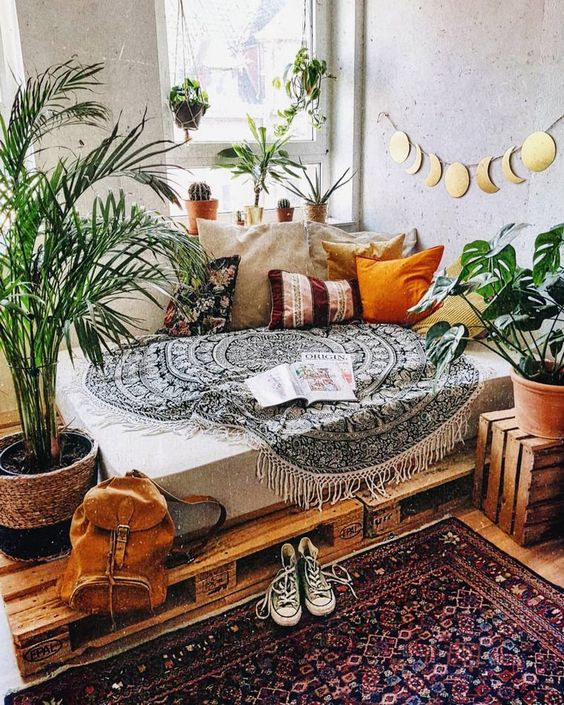 No, less is not always more
Bohemian style is a stark contrast of the minimalist look. You can use objects of rustic value such as wooden bed-side tables and match it with a modern table runner. The materials may have a subtle 'used' look to it. Canopies over sitting areas and beds are the Holy Grail of boho chic. 
The classic Bohemian room should embrace a number of furniture. Each piece will tell its own story to guests visiting. You can go for Victorian items as they are exemplary for the boho look since they are not relevant to the present-day furniture. You can embellish your living room with low-backed sofas, ornate with pillows of different shapes, sizes and the signature vibrant colors. For floor seating, use of rattan or jute rugs can create a 'homely' vibe whilst adhering to the eclectic style.
Let natural lighting take over
To finish the 'relaxing' ambience that the Bohemian style creates, you can use dimmed lighting such as fragranced candles, a variety of hanging lanterns and floor lamps. Fragranced candles can be made at home. If you're into DIY, and the benefit of this is that you can customize scents according to your preferences. There are also plenty of ready-made options for you to choose from. Once again, use your personality when choosing scents and lights as well. If, for instance, hazelnut happens to be one of your favorite scents, and you want a calming ambience, go for a fragranced hazelnut candle to elegantly light up your room.
Antique lamps with bold prints can be included with the candles to balance the minimalist appearance of it and elegantly make the room chaotic and also calming. However, if you want your room to appear brighter, you may opt for mirrored facets, and combine this with natural sunlight.
You can try out vintage  Bohemian framing to truly reflect the essence of the nomadic lives the gypsies led. You can also use Bengali crafts of rustic value, such as this rope braided wrought iron lamp base.
The true essence of the Bohemian aesthetic lies in placing pieces of your own identity through paintings or pictures you hang on your wall, the colors you choose, and most importantly, your creativity. This is a chance to convey yourself whichever way you want to. Bohemians pursue the making of framing as the topmost priority. You can fill your room with paintings you made if that's what means to be true to your artistic self, whatever artistic form, ranging from sewing, music and so on.