Everyone has a distinct sense of style and their own unique ideas when it comes to interior design of their space. But is every decision you make guaranteed to be correct? Well… unless you are a professional interior designer, chances are you may have just made a few slips here and there when it comes to decorating your space. Here in this blog, we discuss five of the most common mistakes made in interior design and remedial steps towards them.
Bad lighting
Lighting is a vital feature in any space as it is largely responsible for the mood and ambience of a given area. More often than not people tend to rely solely on overhead lighting, which, while acceptable for the workplace or a hospital, is likely to strip your home of its plausible aesthetic look and feel and characterise it in an aura of emptiness.
The fix:
Recessed lights – more commonly known in Bangladesh as ceiling spotlights – are a great means of general lighting while chandeliers, wall sconces, floor lamps and pendant lights are your best friends when it comes to ambient lighting. The use of dimmer controls moreover, shall allow you to alter the character of your space as and when you wish and achieve different moods as you desire. Wall-mount spotlights are also a great addition and ideal for accentuating artwork or framed photographs, whilst task lights are an impeccable pick for your study and the kitchen.
It is also important to understand the suitability of warm vs fluorescent lighting to different spaces and the corresponding and distinctive aura that each creates. Fluorescent lighting is usually more suitable for the likes of hospitals, warehouses or commercial offices where the key priority is the general lighting that is functional for the space. Warm lighting, on the other hand, creates a comfortable and safe environment that congruently resonates with relaxation. Especially when it comes to home interiors, alongside visual dynamism, warm illumination that is a combination of lamps, pendants and low hung lights creates a space that is a rich amalgamation of relaxation and style.
Oversized or undersized furniture
There's nothing riskier (to the design of your interiors, that is) than being oblivious of the correct furniture sizes for your space when swiping your credit card at the furniture store. Ignoring classic proportions that result in a consequent design faux pas are a more common occurrence than you may think!
The fix:
Scale and proportions are of high prominence in space planning and the corresponding interior design of a space. It is of utmost importance to measure your space thoroughly first and then determine the correct size and proportions of furniture in relation to the surrounding space. Alongside full room measurement, it is also important to take note of the distance between doors and windows to avoid making the wrong purchase and bringing home a furniture sized too small or too large.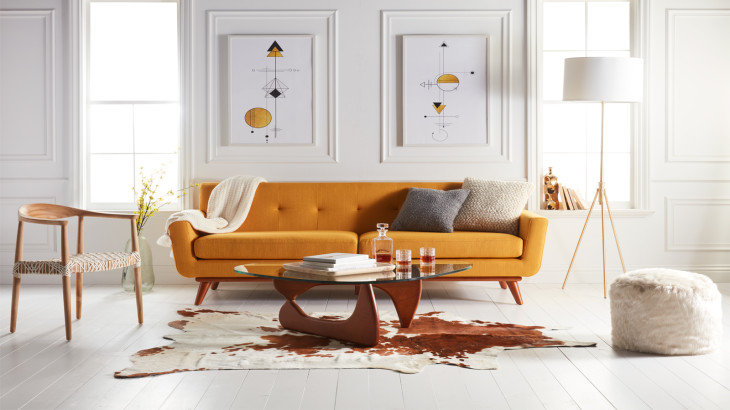 Incorrect rug size
Following on from the importance of scale and proportions from the previous point, another gaffe that stems from overlooking measurements is incorrect rug sizes. A rug has the ability to add great character to a room, for e.g., in living rooms the size of the rug defines the space the conversations take place in. A rug too small is likely to make the space uninviting, whilst one too big may cause a feeling of incoherence or even worse, swallow up the entire room.
The fix:
A living room rug should be able to hold the seating around it together and make all the different pieces of furniture look like one unit functioning together in harmony. The standard rug sizes for living rooms vary between 8-by-10 feet one and 9-by-12 feet one, depending on the room size.
For tighter spaces like an entranceway or in front of a vanity in a bedroom, smaller rugs, e.g., 4-by-6 feet, are appropriate. It is however important to get the furniture placing right. For furniture against the wall, the front two legs of the piece should be on the rug, but for furniture perched in the centre of a large room, all of it should be positioned on the rug.
Un-utilised Balconies
Balconies are largely prevalent in residences across Dhaka city, but seldom utilised with the exception of air-drying washed clothes on a cable in the sun.
The fix:
Although usually compact when it comes to space, balconies hold great potential of being converted into functional spaces. Starting from a simple herb garden to contribute fresh ingredients to your cooking every day, to a recreation space in the form of an outdoor lounge, balconies can be transformed into complimentary operational spaces in your home. Furthermore, balconies attached to your living room can almost effortlessly be used as an extension of your living space with a little help from the right furniture and accessories.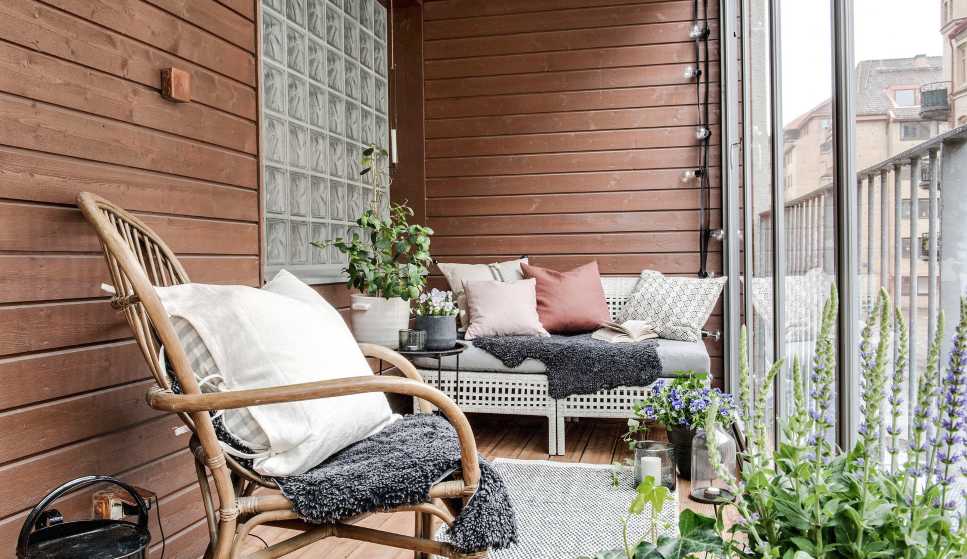 Plain white walls
White walls are a classic – they're simple, minimal, a stark opposite of gaudy and hence a very safe colour to coat your walls with. However, leaving your already plain white wall bare is likely to cause a blunt, uninviting feeling to settle around your space.
The fix:
Framings add great dimension and character to a white wall, alongside depicting your personal taste and preferences. Now, given these lavish works of art are priced equally lavishly, a relatively lower cost alternative can be panelling or wainscoting along your walls for that opulent effect. Framed photographs – the most budget-friendly alternative of the three – will help add points of interest to your space, alongside eliminating the tone of austerity or emptiness of your basic white wall.
In essence, planning and prior calculation is key to making the correct decisions when it comes to the interior design of your space. Expert advice in this arena can thus draw unrivalled benefits. Interior design may seem straightforward on the surface, but once you delve into the process of designing a space you begin to realise how complex and overwhelming the process can turn out to be. Assistance from a professional interior designer can hence ease the planning and execution process by bounds.
Although at foresight, the thought of hiring a designer may seem expensive, upon conversion of one's own effort and time invested in planning, calculation, coordination and execution of the interiors into monetary value, a contrasting perception will take shape