When setting up a new house or renovating your existing one, it is good to decide on a theme for your home. Whether you want to go all out with the decorations or create a very calming ambience, you have to decide on a style for your interiors. Recently, modern and contemporary styles seem to be quite a global hit as people lean towards both styles for inspiration. If you are faced with the dilemma of which style to choose, we are here to walk you through what modern and contemporary designs really are!
Many people associate the terms modern and contemporary designs together because they are the same thing, right? If you look these words up in the dictionary, you will see that they have identical meanings. However, in the interior and design industry, modern and contemporary designs are two separate styles and with attributes unique to each.
This blog covers the similarities and minor differences that shall help you gain a better understanding of the two styles and assist you in deciding which interior style will work best for you and your taste!
What is modern interior design?
Modern interior design refers to a period of time which began in the very late 1800s. The establishment of modern design was inspired by the simplicity of Scandinavian interiors and the influential German Bauhaus schools of design. Famous designers namely – Florence Knoll, Ray Eames and Le Corbusier were huge contributors to what modern design is today. 
From modern was birthed mid-century modern, which is essentially the same style but with an added splash of colour to create liveliness and give positive vibes to your space. This may be done, for example, by adding a colourful statement painting or a bright coloured sofa to your living room!
Modern interior emphasises on natural materials like wood, leather, stone and glass surfaces. It favours simplicity rather than complexity.
Quite simply, modern framing are real-life reflections of modern art that are brought to life in the interiors of our homes
What is contemporary interior design?
Contemporary design became fairly popular in the 1970s. It is not restricted to a specific time period — instead, contemporary design is constantly evolving! Whatever is in trend can be classified as contemporary. The rise in popularity of painted floor tiles, neutral colours and wall lamps all fall into the contemporary category.
Monochromatic furniture and large windows are prominent qualities of contemporary design and they make spaces appear wider than usual.
Although quite vague, contemporary design gathers its inspiration from the elements of modernism, minimalism, Art Deco and other global styles. It revolves around neutral tones, sleek surfaces, clean lines accompanied with materials of steel and nickel.
Often underestimated and labelled as boring, contemporary design can be a breath of fresh air with bold lighting and eye-catching centrepieces that make for a dramatic space for living.
Modern vs. Contemporary – Similarities
Minimalism plays an integral part in both modern and contemporary designs. Both styles follow the tagline 'less is more' which gives an open-space feel to the room which is also easier to maintain. Both styles lean towards clean and crisp looking furniture.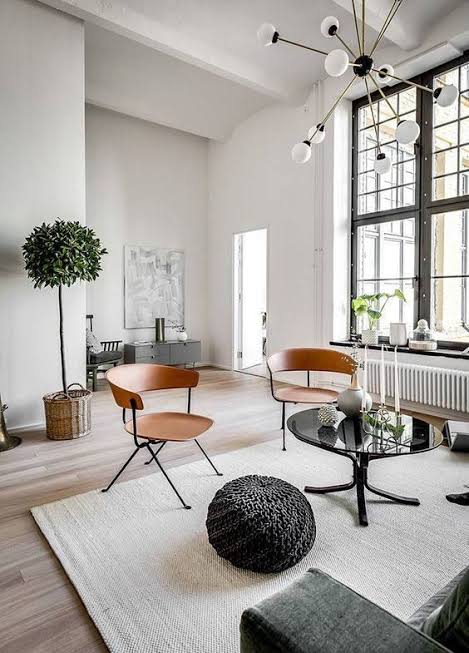 Neither styles prefer heavy metal ornaments or bold furniture. Both styles gravitate towards smooth and mellow furniture that have an artistic flair to them. They tend to show a repetitive pattern of having reflective surfaces with chairs, coffee tables and sofas displaying exposed legs.
Neither styles will feature any piece or ornament that is too intricate and out of the ordinary. It combines the most basic elements to create a cosy environment.
Both modern and contemporary designs favour materials made from wood, glass and metal. This gives a very welcoming feel and adds a homely touch to the room.
Modern vs. Contemporary – Differences
The main difference between the two is regarding the time frame, while modern interior design is tied to a specific time period, contemporary interiors are focused on the present, in the now.
Since contemporary interior design is forever changing, it has many components that may not be found in modern design.
The colour palettes of both styles differ too – contemporary design sticks to stricter shades of black, white and grey with more striking hues. Modern design leans towards earthy and warmer tones that have shades of rust, brown and olives.
Modern design has a preference for strong lines while contemporary design favours curvier furnishings. Modern decorative pieces tend to have function while contemporary ones focus on their form. Modern interiors will be rarely viewed as sharp and cold whereas contemporary interiors follow a pattern of bold starkness.
So, which should you go for?
So, if you want to add a modern feel to your room, think more pillows on the bed, add green accents or a geometric light fixture to the ceiling. On the other hand, if you want to adopt a more contemporary feel, embrace the natural light and install large windows that will give a more open feel to the room. Maybe keep a flower vase on your nightstand or add a trendy Italian armchair to the corner of your room.
Contemporary interiors will cater to people who are always up to trends and have changing tastes. So if you are someone who feels the urge to update every nook and cranny of your home and install new pieces to your rooms occasionally, then contemporary style is the one for you!
But if you are someone who has more of a classic taste in interiors and sticks to a style for a considerable amount of time, then modern interior design is definitely your style.
Now that you know a little more about modern vs. contemporary interior design, we hope it will be easier for you to decide on a particular style when in dilemma between the two and express yourself with ease to your designer. However, if you are uncertain about which style to go for and feel overwhelmed with all the possibilities, we've got you covered! You can combine both the styles together to create a unique and comfortable space, for example, by merging the kitchen with the dining room or by adding marble tops to your coffee tables, and voila! You've got yourself a modern contemporary space.